Willie entered a contest for $1 million dollars

"Cutist Dog Contest" he needs your vote...........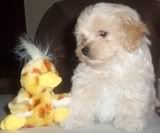 Click on the link below to vote.......you can vote once a day
=======================================
Willie,

Congratulations! You are entered in Week 1 of the 12 week Cutest Dog Competition. You have a chance to win $1 Million Dollars and many other prizes. If you don't win this week, enter again next week. You can enter the contest once a week until it ends on October 23, 2009 at 11:59 PM (EST).

Remember to vote for yourself once a day. Tell your friends to vote for you too!

Here is a direct link to your photo.
http://www.cutestdogcompetition.com/vote.cfm?h=3111823BA5C442203625713F628DE4F0