i found this scrape today while doing a quick trail cam check. note the ground is still wet with pee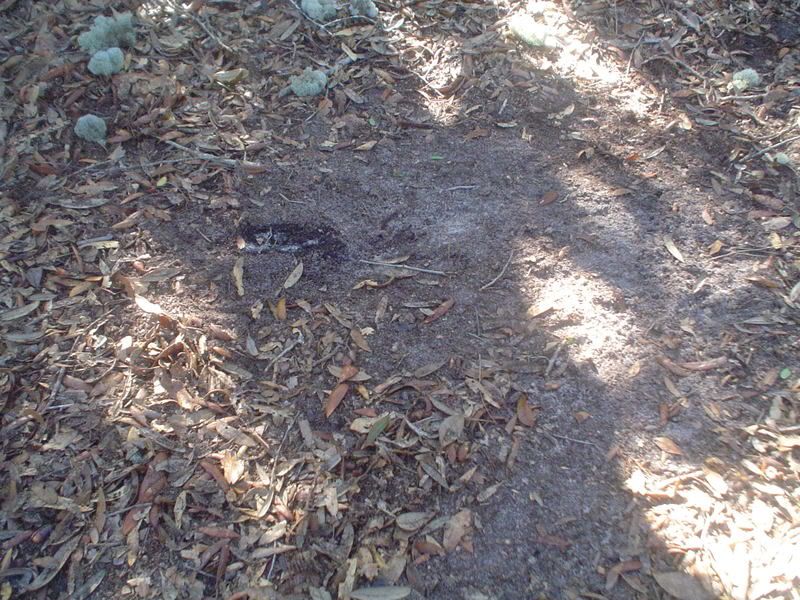 Boone&Crockett
Posts: 1260
Joined: Wed Dec 07, 2005 10:04 am
Location: crestview florida via Petal Ms.
---
Bet that got you heart a pumping a little bit
Admin
Posts: 19460
Joined: Wed Dec 15, 2004 12:53 pm
Location: Olive Branch, MS
---
Only way it can be any fresher is catch him peeing in it
And Shoot Him
Team 5 Co-Champion with Team 1 2014-2015
Team Genesis 2013-2014
Team Rack Blaster 2012-2013
Resident Geezer and Granpaw
Granpaw
Posts: 8348
Joined: Wed Jan 11, 2006 4:55 pm
Location: Bruce Ms
---
Bet you wish you could have been there a little sooner.
Boone&Crockett
Posts: 1067
Joined: Sat Oct 27, 2007 10:56 pm
Location: Walls MS
---
good luck catching him!
10 Point
Posts: 729
Joined: Wed Dec 07, 2005 6:58 pm
Location: collierville, tn
---
The only time I've seen one that fresh was when I saw him make it. You missed him by minutes.
help preserve our national blast time.
Non-Typical
Posts: 970
Joined: Tue Dec 12, 2006 11:24 am
Location: Marshall County
---
Yes i would say thats fresh.
RESPECT THE LAND AS WELL AS THE GAME YOU HUNT
'Life is like a coin You can spend it anyway you wish, but you can only spend it once'
Pope&Young
Posts: 11625
Joined: Wed Oct 10, 2007 8:19 am
Location: The Flat Lands of Mississippi
---
Looks like you just missed him. Wonder which one it was?
Get'em close and double-lung'em!!!
Support your troops!!!
"People sleep peaceably in their beds at night only because rough men stand ready to do violence on their behalf."
--George Orwell--
10 Point
Posts: 545
Joined: Thu Nov 29, 2007 2:08 am
Location: Paktiya province Afghanistan currently. Stationed at Fort Richardson, Alaska
---
---
Who is online
Users browsing this forum: No registered users and 2 guests