Sorry to be so slack in getting this posted. Things mount up when you are out of town.
Two weekends ago, I went hunting for roe bucks, with my buddy Paul, at my ground at Knockespoch, in Scotland.
Over the weekend we got a total of five bucks, though two of them were from my friend Derrick's ground.
We got up there by Friday afternoon and went out for the evening stalk about 1700 hrs.
Neither of us got a buck, though Paul saw eight does and I saw three red deer hinds (All out of season).
We got back to our friend Iain's place about 2230 hrs and were out again by 0400 hrs.
Iain has the penthouse apartment of a Scottish castle, which used to belong to the Laird of Ury.
A Laird is a minor Scottish Lord. The castle was built in the seventeen hundreds and is typical of a fortified Scottish house.
The house is set in twenty five acres of fine parkland and has a one and a half acre trout lake and a section of the river Ury.
Here is a view of the house from the front. The second floor has a huge ballroom.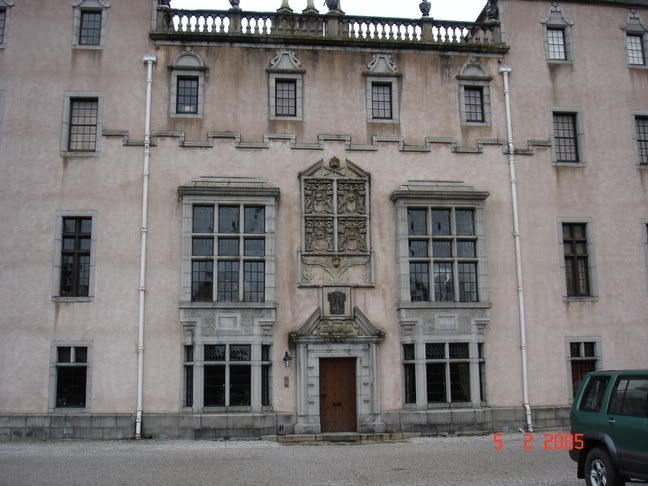 This view is from the East side.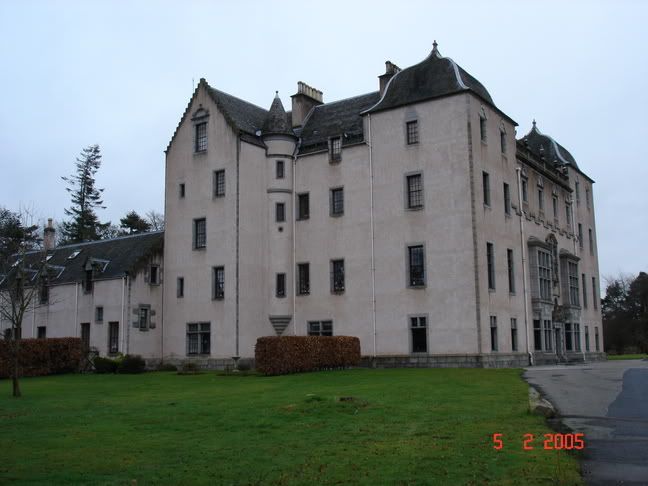 The morning outing was more productive and Paul got a fairly nice buck.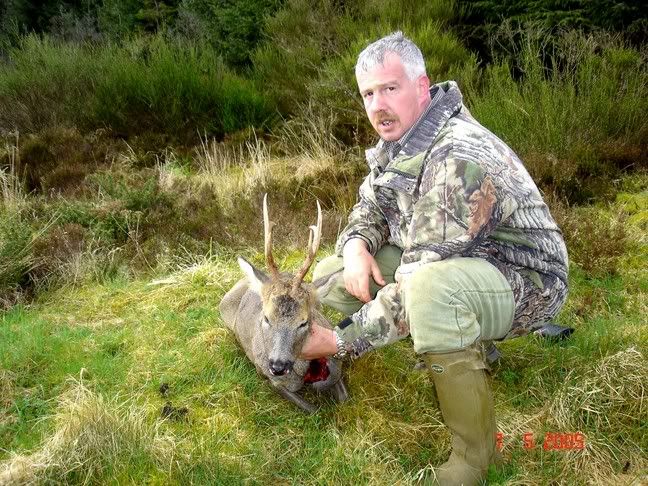 I got nothing but saw a couple of does and some red hinds.
That night, Paul saw several does and two bucks but was unable to stalk onto either of the bucks.
Again, I saw a red hind but no roe.
The Sunday morning stalk was more productive for me. Stalking along the woodland margins heading North
I saw two roe bucks, about three hundred metres away.
I stalked up on them, to about 130 yards and shot one of them.
He ran out into the moor for about twenty feet and I followed him in the 'scope, in case another shot was needed
but when he turned round to run back to the forest, I saw blood coming from just behind his right shoulder,
just where it should have been. He dropped and as he did so, I put the rifle up on to the second buck but he was not cooperating.
He took off for the forest, jumping the fence without pausing, so I did not get him!!
This is the view to the South of where I shot him.
And here he is.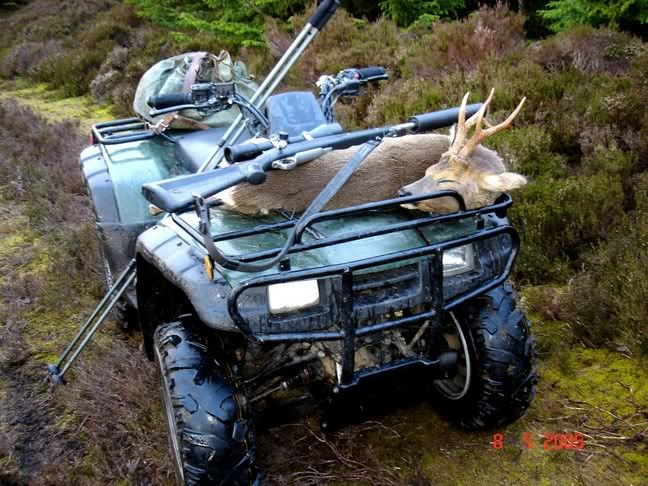 Thank heavens for quads. They make life so much easier when you weigh as much as I do!!
That evening, Paul got another buck but I did not get a photograph.
I did not see anything to shoot but did watch a group of five red hinds
and two knobbers
(Year old stags, yet to grow their first antlers.) Whilst I was watching them, I saw four badgers come out to feed.
Although these cute looking animals are a pest and carry bovine tuberculosis, they are protected by law.
I remembered that I had my camera on my belt, so I took a photograph. The deer had moved off by this time.
Here is the badger.
The next morning, I took a walk down a burnside. (A burn is a little stream) It is called Terspersie Burn.
Here are a couple of views.
That night, we went out on my friend Derrick's land. Paul shot two bucks. All I saw were two does.
Here are the heads from three of the bucks that Paul shot.
This is the one I shot.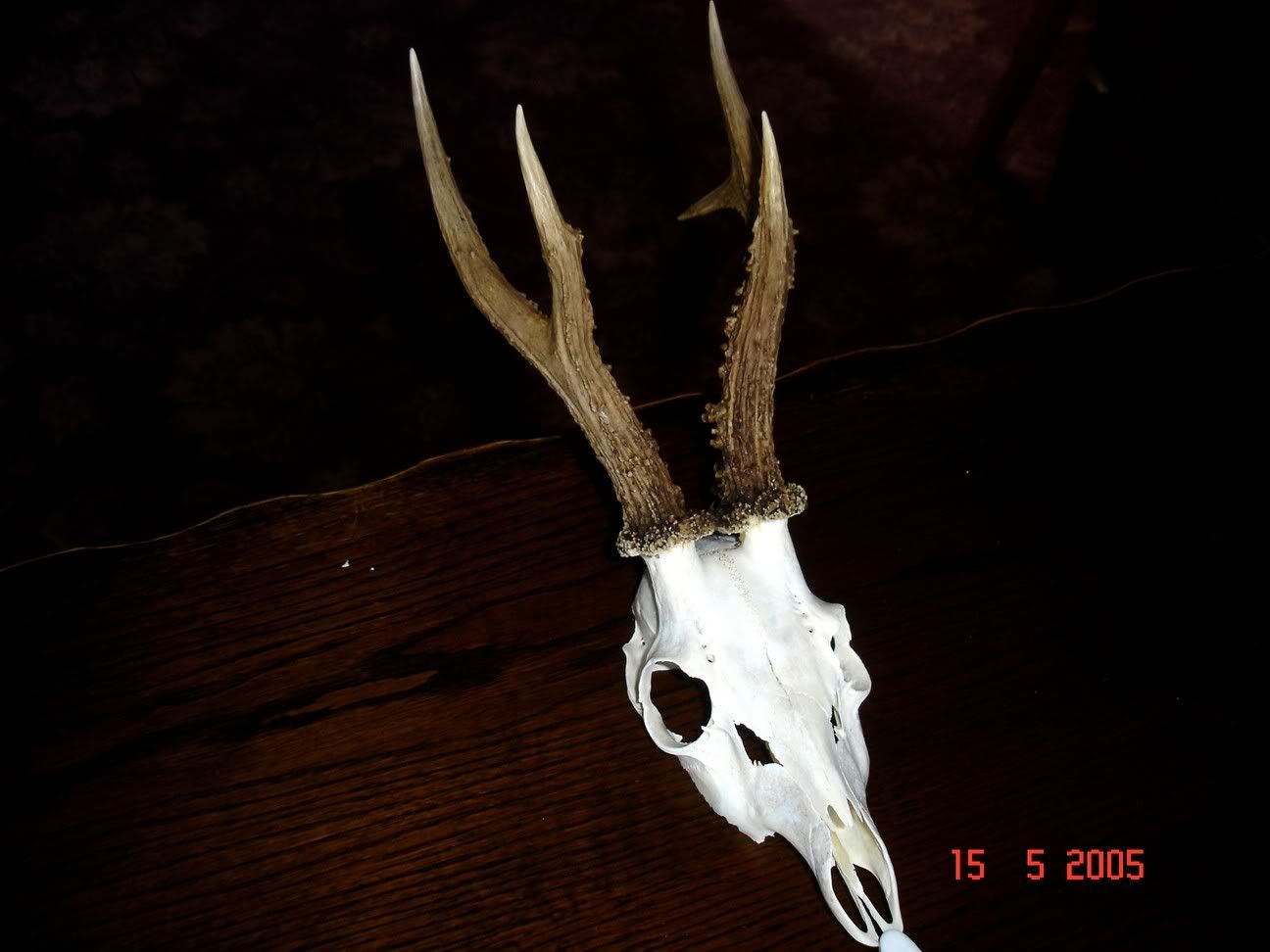 This is my first six point roe buck. He is bronze medal weight. I shot him at Castle Fraser, near to Aberdeen, around 1982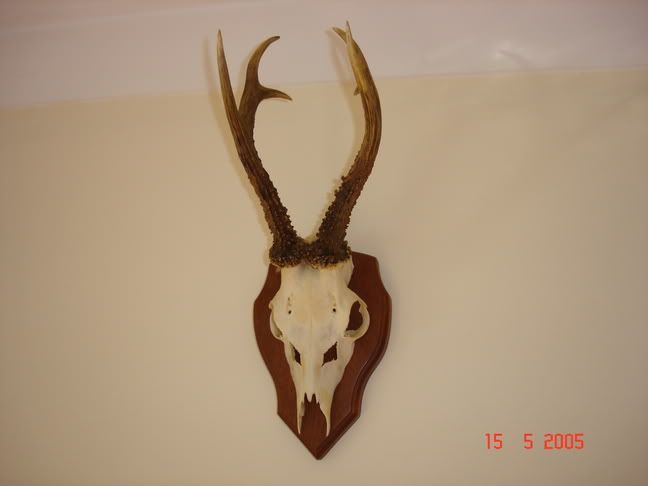 These heads were shot, some in Hampshire, England and some in Scotland. All weigh in at bronze medal class.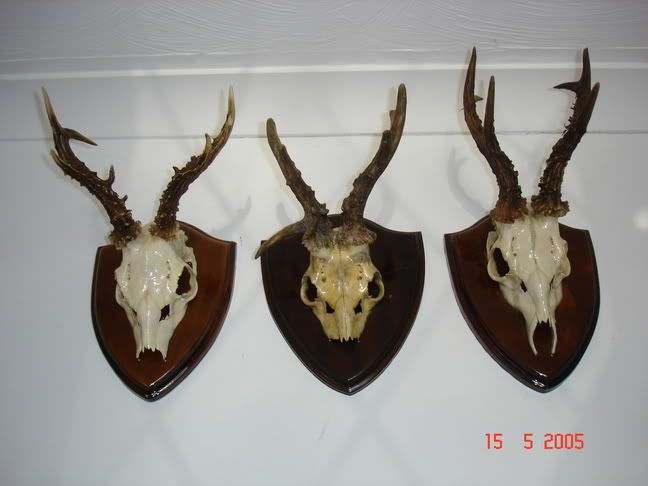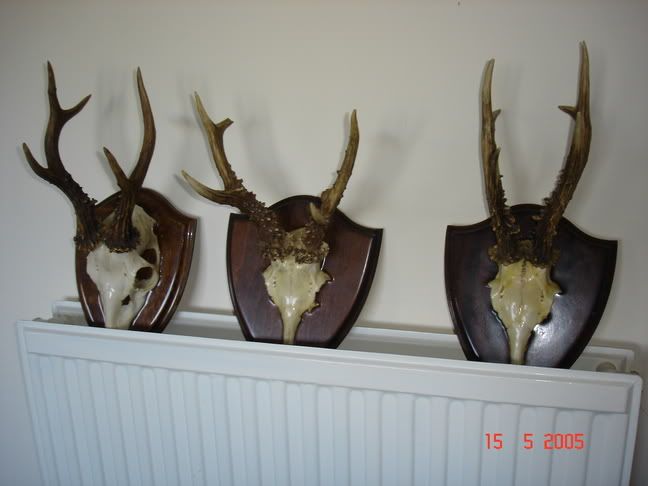 Next visit will be at the start of the rut, at the end of July.
Roebuck.