We had a great hunt!
Posted:
Wed Apr 16, 2014 11:12 am
Dad and I had been seeing this gobbler's track up and down the road for the past couple weeks but other than a shock gobble every few days he wasn't ready to play the game. Dad got on him 2 days ago and called him across a thick pine plantation. The gobbler lit in a tree about 15 yards from him and stayed there 15 minutes then sailed down into some thinned pines and left with a couple hens. Yesterday he could hear him drumming on the limb but he never gobbled and didn't come in to the setup. We were pretty sure what area he would be roosted in this morning so we set up about 125 yards apart. Owls cranked up at 6:10 and he gobbled about halfway between us, over some backwater. We waited until we heard a hen start yelping then Dad gave him a few low yelps and he answered! 5 minutes later he answered the next series of tree yelps. I eased the trumpet to my mouth and clucked 3 times, he answered! He flew down at 6:30 and spent the next 45 minutes in a very small opening strutting and drumming back and forth. I heard a couple of turkeys fly from over the backwater and light in the pines above me so I was pinned down. I didn't call anymore but he answered Dad and some hens nearly every time. I heard the drumming start moving toward my left and could tell he was circling the food plot I was on the edge of so I yelped a short series and started scratching in the leaves, that was all it took for the first hen to pitch down, then another, then another. Then gobbler gobbled much closer then appeared into the plot. He was about 25 steps and in full strut headed toward the hens when I rolled him! 10 1/8" beard and very sharp 1 1/16" spurs.
Before: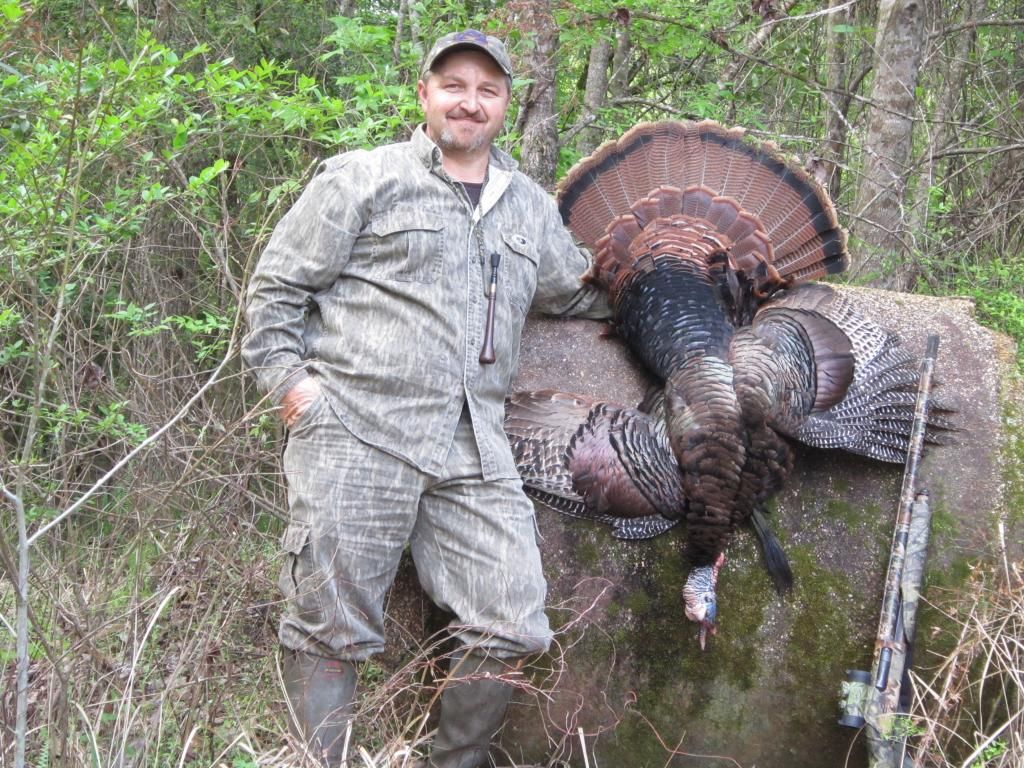 After: