"A Hunt Above" was contacted by the Mississippi Wildlife, Fisheries and Parks Department on Wed. Jan. 24, 2007 concerning a last minute hunt for a young man for a muzzleloader hunt. We at "A Hunt Above" put our wheels in motion and had a hunt lined up in less than 24 hours. The hunt was going to take place in Holmes County on Sat. Jan. 27, 2007. Mississippi Outdoors Magazine also contacted us about doing a story on this hunt and was going to be present.
Now here are the details of the hunt:
Saturday Jan. 27, 2006 was a cold and cloudy day with rain in the forecast. Mike Macko met the young man (Edward), the young man's father (Richard), the young man's brother (Andrew), Randy Newell (MWF&P), and Mark Beason (MS. Outdoors) around 11:30 AM in Holmes County.
Edward is 18 years old. When he was 16, he was involved in an accident riding on a Rhino (off road ATV) and broke his C-6 and C-7 in his neck. This left him paralyzed from the waist down. He spent many months in Methodist Rehab in Jackson. MS. Edward was determined to go on a deer hunt this year and worked really hard to achieve his goal. Senator Posey (Mississippi Senator) heard about Edward and contacted several people and that's how "A Hunt Above" was contacted.
Yall meet Edward: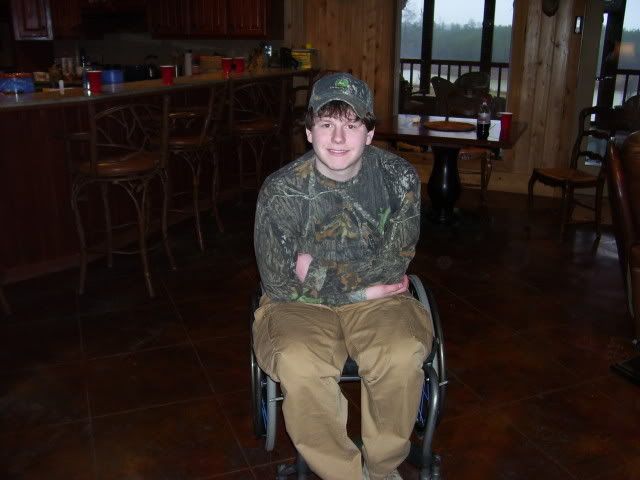 We drove to the lodge where the hunt was going to be and were greeted by Don Wynne and his staff. Don had some real good corn chowder and ham and roast beef sandwiches ready for us when we arrived.
After eating we talked about the usual deer hunting talk. Randy Newell is seen here giving Edward a good talking too. Hope he wasn't giving Edward a hard time.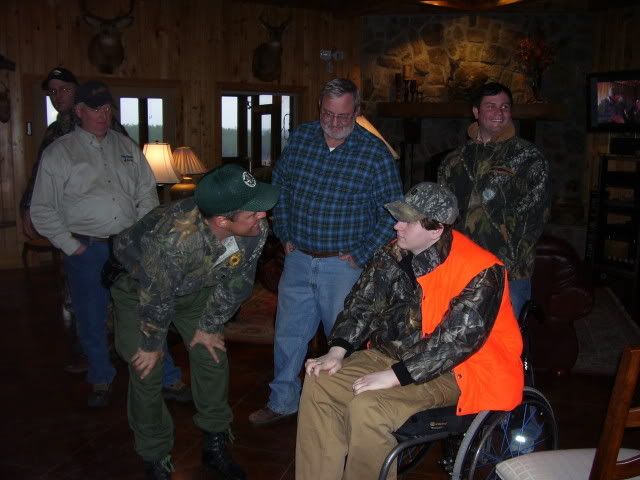 Around 2:30 PM we loaded Edward, his brother Andrew and Mark Beason to go to the stand.
The stand was a well built shooting house with wide steps over looking and acre or acre and a half food plot. All three got settled in the stand. I was told later by Edward that since they were all full from lunch, there was some head nodding going on.
While the hunting party was on the stand we were preparing for supper. Here's a hint of what we had later on.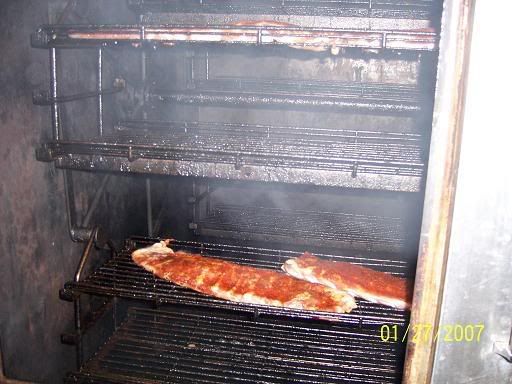 Well darkness grew and the rain came down. We drove out to pick up the hunting party. There were several deer seen, but none presented a shot for Edward. Edward was full of smiles and was just happy to be able to go on this hunt. We arrived back at the lodge to eat and some guys from Louisiana had harvested a doe. They told Edward that he could have the meat if he wanted it. Of course Edward wanted the deer, so "A Hunt Above" told Edward and his dad that we would have it processed for him anyway that he wanted. Edward was very grateful to the Louisiana hunters and "A Hunt Above" and to Don Wynne.
Well we ate the ribs and enjoyed some more fellowship. We all gave God the Glory and "A Hunt Above" is still 100% successful. Even though no harvest was made, Edward had a time of his life. He saw deer in which God put on this earth and enjoyed His beautiful nature.
Here is a few more pics hope you enjoy.
Edward showing off his new hat.
The group
Standing from left to right
Jeremy Adthingy (guide for Wynne Farms), Ricky Farmer (guide for Wynne Farms), Don Wynne (owner Wynne Farms), Richard Richardson (Edward's Dad), Mike Macko (director "A Hunt Above"), Randy Newell (MWF&P)
Knelling left to right
Mark Beason (MS. Outdoors), Edward Richardson, Andrew Richardson (brother of Edward)
Also present were my son and daughter (Josh and Megan)
Matt Jones (Conservation Officer MWF&P)
Todd Macko (
http://millenniumstands.com/
)
Beth Wynne (Don's wife)