Back early this year, a friend of mine asked if I'd like to go elk hunting in Colorado with them in October. I wasn't sure, but my wife talked me into it.. These guys hunt a private ranch approximately 4,500 acres, and borders "State Trust Land" (public). The land is self guided. We just paid an access fee, and that's it. No frills, nothing. You check in with a guy once we get there, and that's the extent of it.
The time finally arrived. Three of the guys had gone a week earlier and detoured through Wyoming because they had some cow tags to fill. They filled their tags on the first day, and spent the rest of the time trout fishing. One guy was flying into Denver & renting a 4x4. The three remaining guys rode with me, and we left Wednesday Oct 16th. After a VERY long drive, we stopped in Hays, KS and spent the night. Up early the next day and made it to Denver by lunchtime. It was all UPHILL from Hays, KS to Denver. We bought some very expensive Bull Elk tags at BassPro in Denver, ate a quick bite, and drove on to Walden, CO.
Friday we checked in at the Ranch, and we were allowed to ride just to see where we would be hunting. There was a fresh dusting of snow (couple inches) on the ground, which made for some slick conditions. No scouting was allowed. Also, no ATV use is allowed except to retrieve game. We drove a little over 4 miles off the road to get to where we hunt. The "path" we drove in on snaked up & down foothills, and was nothing but smaller boulders and huge holes dug by badgers. I still don't understand why the badgers want to dig holes in the middle of the road, unless they are sitting close by and laughing at all the bouncing & bottoming out.
Pic right before we turned into the ranch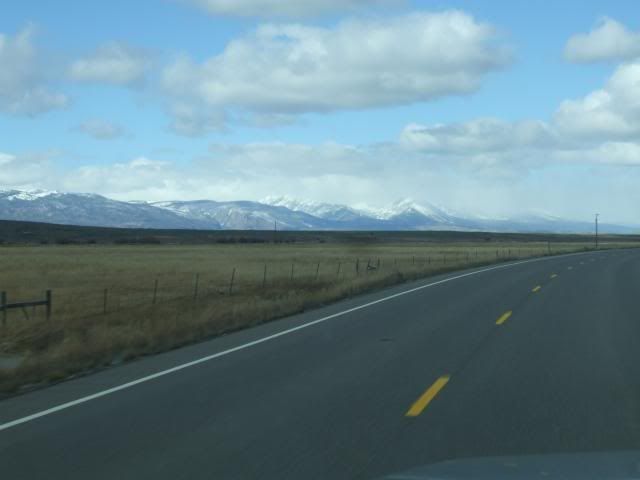 Pics on the way in. I loved seeing the old homestead place. Whoever lived once in that cabin had a beautiful place.
Campsite where some folks from WY & KS were staying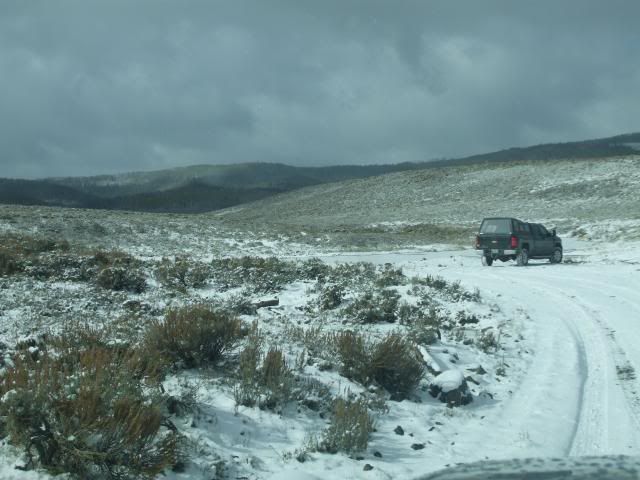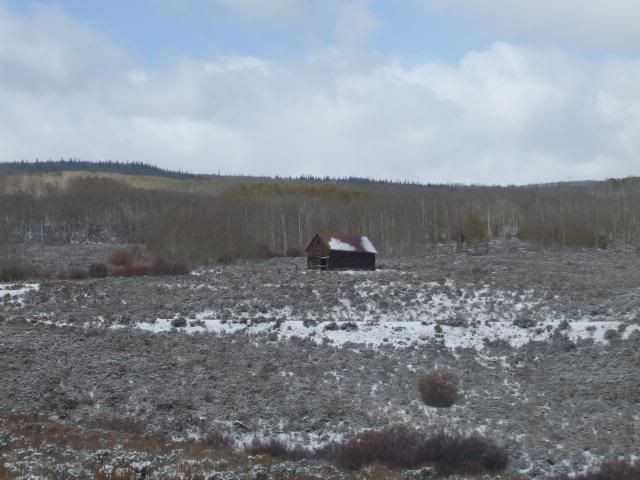 Looking up at the mountain where we were going to be doing some of the hunting.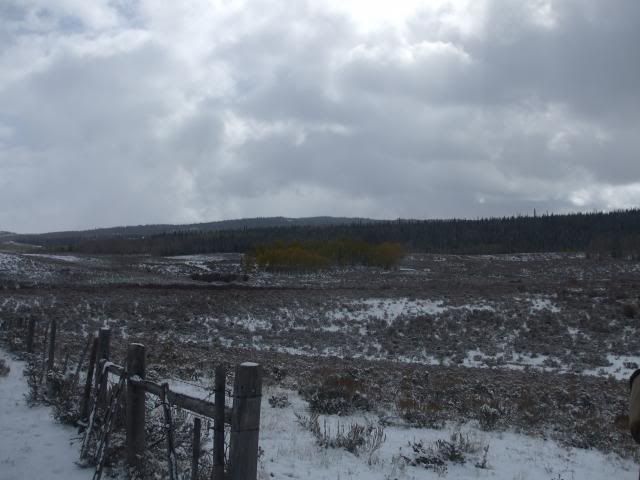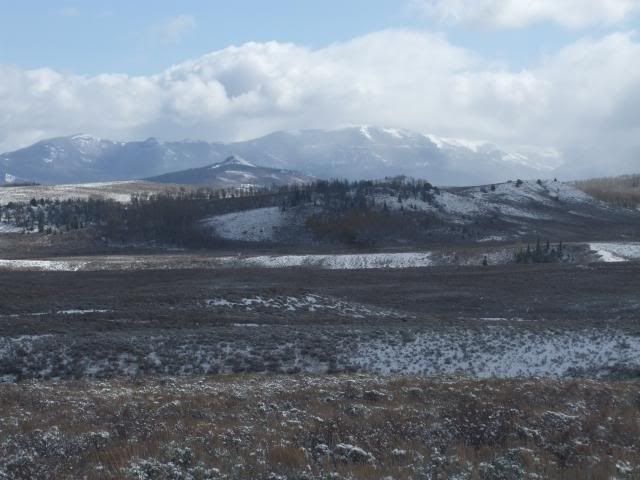 Looking back at the direction we drove in.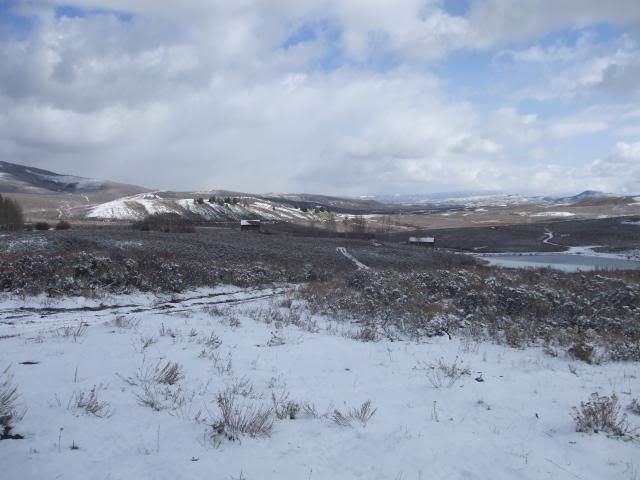 Everything is either uphill or downhill. And when I say uphill, I mean UPHILL. We started at about 8000 ft, and would hunt to about 9000 ft. The first day I had absolutely no idea what to do. I followed "Mr D.O." up a ridge and he said "walk that way and look for elk sign and hunt. I still hunted through some Aspen trees, and then entered into a "Green Timber" thicket so thick you could barely walk. There was fresh snow on the ground, and when I saw fresh bear crap on top of the snow, I quickly exited that thicket. Mr D.O. was a few hundred yards ahead and saw a sow bear & two cubs. I found some really good elk sign, and sat down to hunt.
Looking out over the ridge.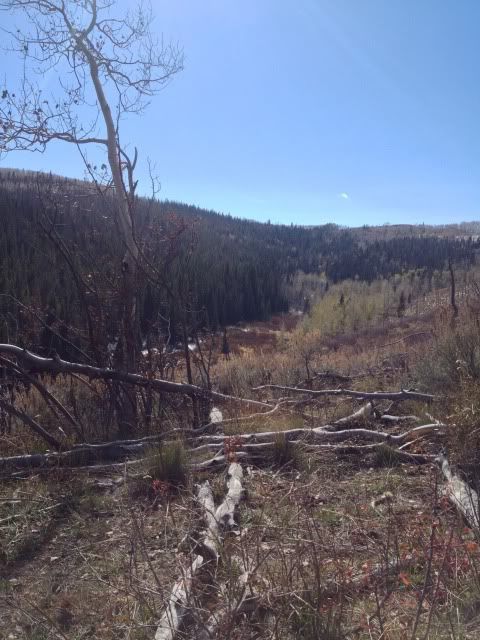 Looking down the ridge. The green timber is where the bear sign was.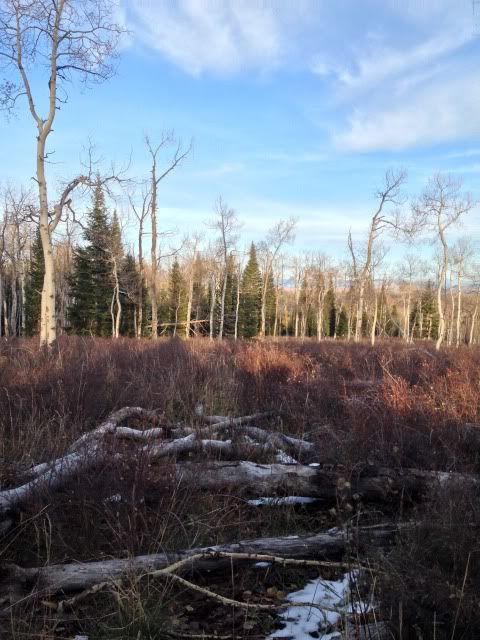 Right about dark the first evening, I was getting ready to head back while I still had daylight. I stood up, and heard a noise behind me. Yep.. there was a small bull elk looking at me. In less than 3 seconds he had run down the mountain and up the other side, never presenting a clean shot. That was my first encounter with an elk. I followed my gps back to the truck, and discovered just how hard it is to walk through sagebrush in the dark !
The second morning, I went back to the same spot. I hunted all up and down the ridge but didn't see anythign but more fresh bear sign.
The third morning, I went to a different spot with another guy. We walked into an area absolutely loaded iwth elk sign. It was real hard to get to, which was probably the reason nobody else hunted that area. I walked to the far corner of the property, and saw two cow moose. It was about mile to the back, and I climbed a knoll that was huge (straight up). On top, I could see for miles behind me, and several hundred yards in front. I liked it
This spot was 8980 feet. It was late when I made it back there, and only hunted about two hours. I knew I was coming back to this place.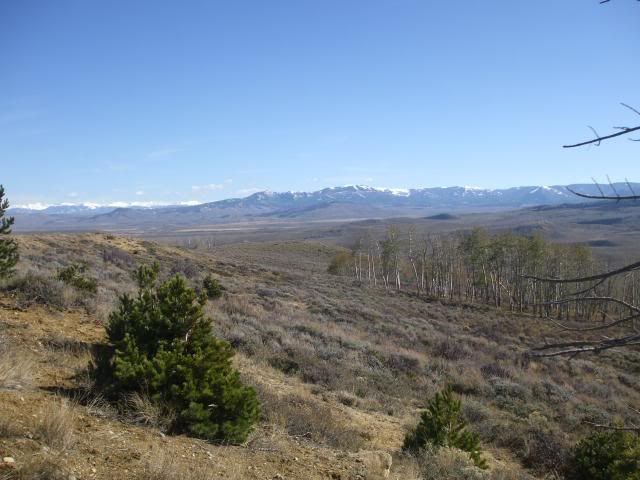 Looking behind me
I could even see "Rabbit Ridge" in the distance (a long long way)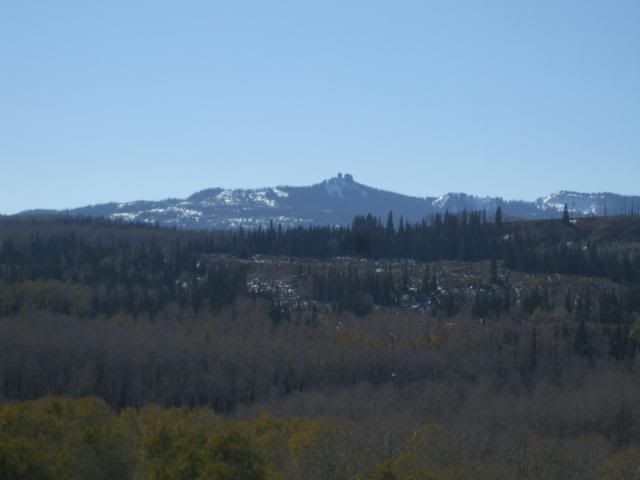 The fourth morning I hiked all the way back there, and was covered in sweat, even though it was 19 degrees. When I sat down, I immediately got chilled to the bone! Lesson learned, do not wear all your hunting stuff when walking. I was miserable until the sun made it over the mountain, and started warming me. About 10:00, nature called in a B-A-D way. So there I was taking care of business. I was "finishing up" and looked up the meadow. What was that? Yep... elk! Several cows and a couple of bulls came through running. I pulled my pants about 1/2 way up and ran (hobbled) to my gun. Of course it was about 1 second too late
I didn't see anything else .
Fifth morning, I left the truck wearing only a light shirt over my long-johns, even though it was about 20 degrees. After an hour hike, I made it to my spot. I sat there replaying the last few days events, and just enjoyed the scenery. At 11:15 I heard a bugle right behind me. I thought no way elk were coming over that bald mountain. I stood up and looked behind me, and elk were EVERYWHERE. At least 50, probably 60 elk were looking at me, just as surprised as I was... There was a lot of bulls, probably 8-10. Elk went everywhere. I tried to pick out a good bull, but most of the bigger ones had skedaddled . I picked out the last bull, and fired. He never flinched. He disappeared over one knoll, and popped back out on the other side running directly away. He finally quartered to me just a bit and I shot again. Still did not show one sign of being hit. The whole heard ran down to were my buddy was hunting, and I heard him shoot.
I walked and walked but found no sign. I walked down the mountain trying to follow tracks and didn't find anything. I heard another shot towards my friend (finishing off his elk). I walked back up the mountain, and tried a different path back down. Still no luck. I was literally exhausted. I sat down and replayed the whole thing in my mind over & over. I knew I didn't miss.
About two hours later, I get a text from another guy that had come to help my friend who had shot earlier at the herd, telling me that he was looking at my elk on a far hillside, alive but not going anywhere. I ran down the mountain and there he was ! I sent the finishing shot on its way, and was pumped. I had my first elk. The antlers weren't huge but they are decent for this area.... I wasn't complaining. My 6x5.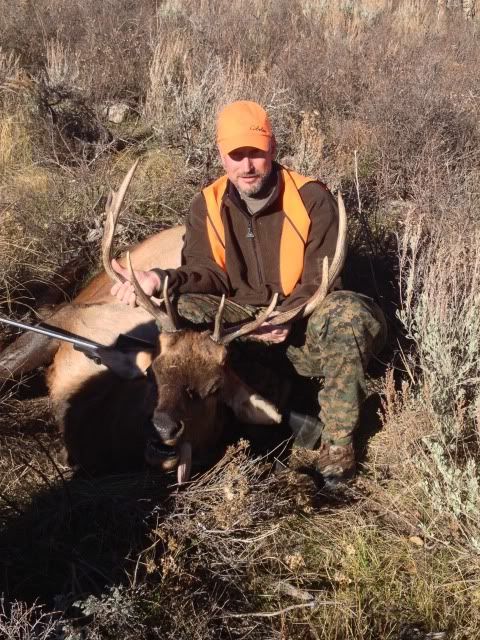 Stripped down to my tshirt to start gutting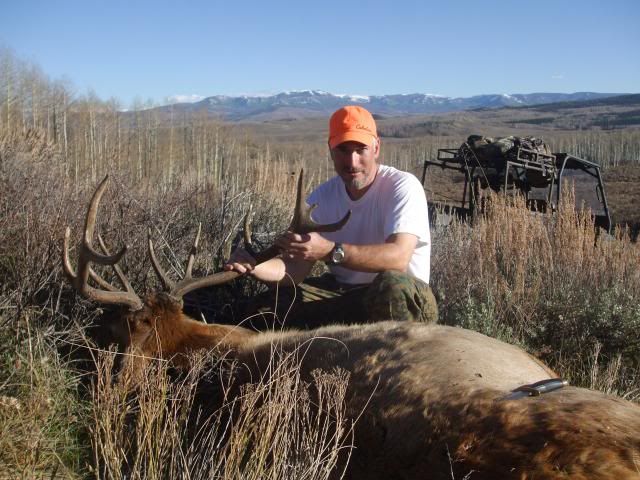 Gutting an elk is WORK. It probably weighed 700 pounds or more. It took me a good 30 minutes just to gut it.
The other guy had shot a nice 5x5 out of the same herd I took mine from. Him and Mr. D.O. had his quartered up. They drove "the beast" as close as they could and it took four of us to get my elk in back of the polaris.
That polaris carried two elk and four hunters up & down the mountain back to the truck. It was a lifesaver. We would probably still be packing meat out if not for the polaris.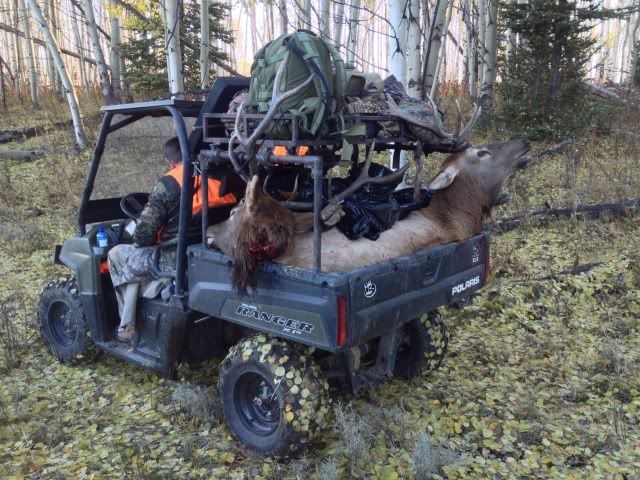 Two tired hunters !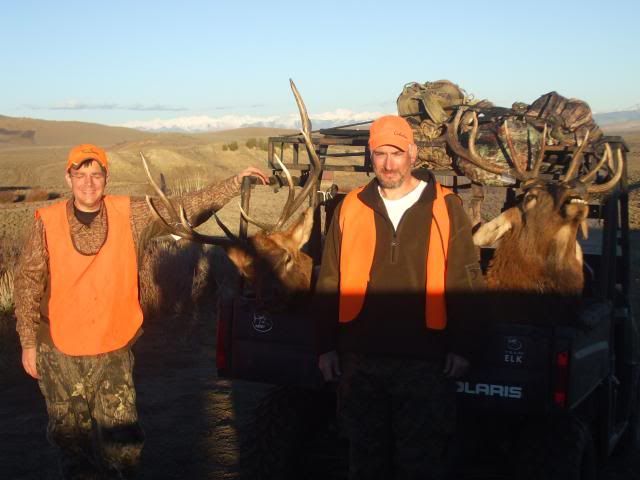 We left early this am to take my elk to a processor in Steamboat springs, because someone knew they would FedEx it. When they quoted me a price of $500+ to FedEx it, I talked them into doing a rush job.. I will pick my elk up in the am, and head home ...