Last weekend, I went up to my shooting land (Knockespoch) in Aberdeenshire. The roe rut was in full swing. First evening out, with the new Sako, in .22-250, towards the end of the light, a roe doe ran over the skyline towards me. A roe buck was chasing her. She turned and ran away from where I was standing and the buck chased her. She stopped and he covered her. I had never seen roe deer mate before. When he was done, he stood on the skyline, about 220 metres away. Not a safe shot. I had the scope on him but he never moved below the skyline, so no shot. He was medal class. I could have wept. (Maybe I did, or it could have been the wind)
Next morning, as I came out of the forest on to the moor, I saw another two roe. They were about 120 metres away. I shot the buck with the new Sauer .243. (I had taken the .243 because there are red deer there too, though I didn't see one.
Here he is.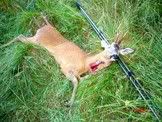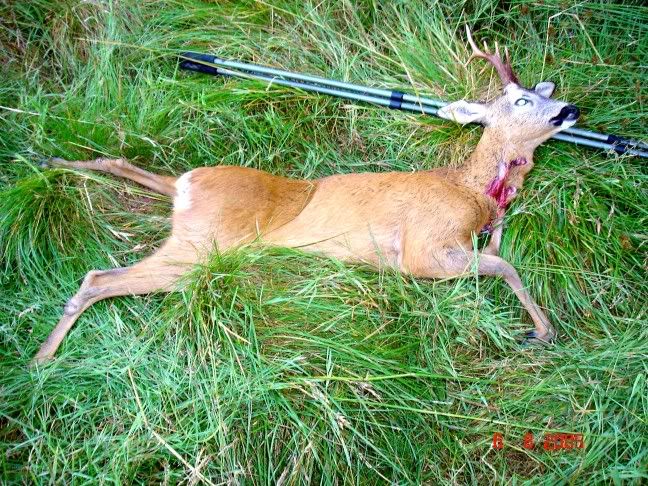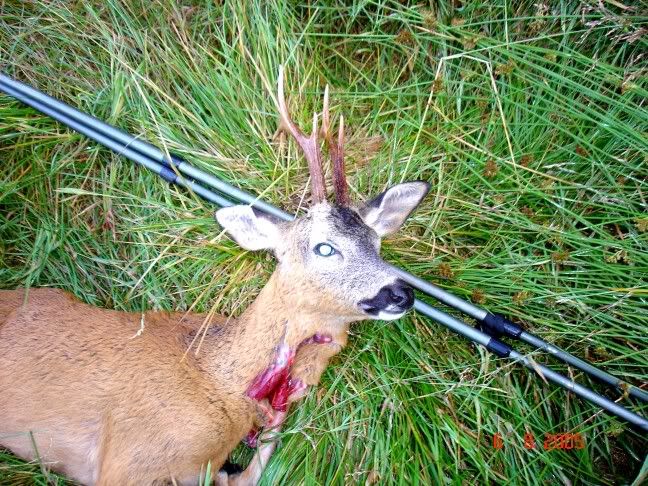 My friend Paul shot a little buck that morning.
That evening, I saw the first buck and doe again. About 500 to 600 metres out on the moor. They were chasing and feeding. I tried calling the doe with a Buttallo call but the wind was blowing towards me and they could not hear the call. I watched them for about one hour twenty minutes before they disappeared over the skyline. When I met up with my friend Paul, he said, "I've seen your big buck". Paul had stalked another big roebuck for forty-five minutes but could not get the shot. I told him that I had been watching the first big buck, so we must have two medal class roebucks on the ground.
Try as we did, we did not get another shot on Knockespoch this visit.
We went out with a forest ranger friend, on his ground. He put me in a high seat to shoot a marauding red deer stag, a twelve pointer. Alas, he never showed and all I saw was two small does, which are not in season right now.
Paul had gone walking and had come across three roebucks, two of which he shot.
Four bucks came home with us. I got to butcher them up into cooking joints and made up about forty pounds of sausage. Hard work but when you view it on the plate, with the mashed potato and gravy, worth every minute.
Roebuck.