On Sat. Jan 17th we took Jordan, a 15 year old from Mendenhall, MS. to Holmes County, MS. for a deer hunt. He was diagnosed in January 2008 with Aggressive B-Cell Lymphoma. He has been in remission since Sept.
That morning started off in a 2 man stand overlooking a lane in some mature pines. Around 7 am Jordan tells me he sees a deer and about 20 yards from us is a yearling doe. We watch her as she crosses the lane and walks off. I told Jordan looks like it's going to be a good morning. Around 9 am I see a deer coming down a hill towards us and tell Jordan that it's a good size doe. He gets ready but as the deer gets closer I thought I saw some spikes coming from it's head. Sure enough when it steps in the lane, it's a spike and Jordan decides to pass on this deer. He was shaking so much I thought I was going to fall out of the tree. We did not see anymore deer that morning so we went back to camp.
After warming up and eating and a little nap we went out to West Wynne Farms and got in the "Shooting House" that Mr. Wynne has on his pond dam. We weren't in there 10 minutes and the first deer appears and it's a small doe. We end up seeing 9 deer, 2 bucks and 7 does. Well since Jordan had never harvested a buck we decided we would watch the biggest buck in the field (a 3 point) , the other was a spike. If no larger buck would show it's self we would take the 3 point.
We at 5:07 pm we decided it was time and Jordan shot the buck and it jumped about 5 feet in the air. I told Jordan to shoot again and he did and knocked it down. Congrads on your first buck Jordan. Here's a few pictures.
Sitting in the "Shooting House"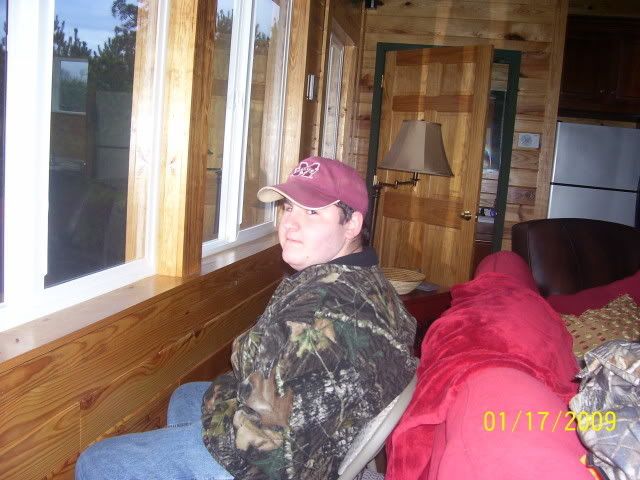 Jordan's first Buck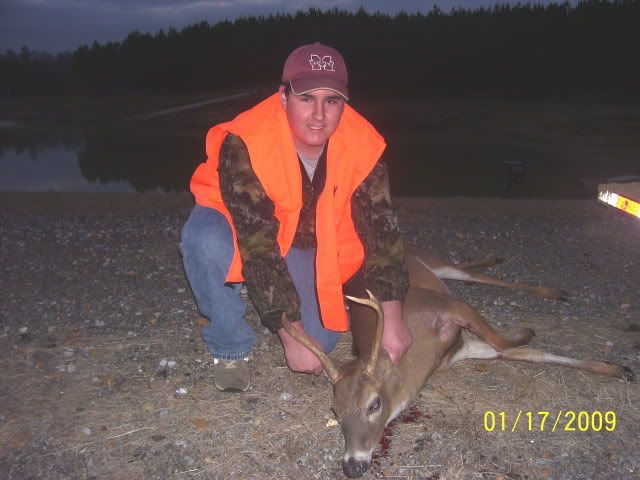 Thank you all for your support and prayers. Our next hunt is a hog hunt Feb. 21st. in Texas.