We at "A Hunt Above" took a young boy on his "Dream Wish" of an Elk hunt. You all meet Kurt.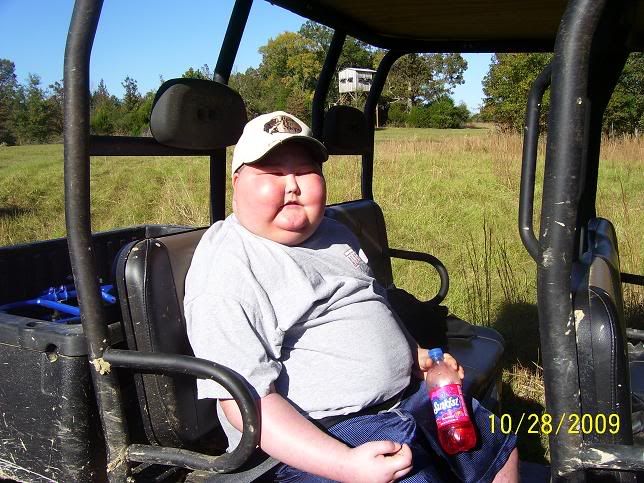 Kurt is 11 years old and has been diagnosed with Grade 3 Astrocytoma. He was diagnosed at the age of 10. Astrocytomas originate from cells called astrocytes and are most commonly found in the main part of the brain, the cerebrum. People can develop astrocytomas at any age, though they are more common in adults. Astrocytomas in the base of the brain are more common in young people.
Before Kurt's diagnosis he was a normal kid enjoying things like playing baseball, hunting and fishing. He was Saved and received Jesus in his life at the age of 8. He had brain surgery in July 2009 to remove a proportion of his tumor, but the doctors said it was too much to remove. He started chemo and radiation, but that did not work. He now has a hospice nurse that visits him and makes him as comfortable as he can be.
We took Kurt to Camden Farms in Camden, MS. which is owned by Mike Jarvis. Camden Farms is loaded with all kinds of animals. There are rams, black buck, axis deer, fallow deer, red deer, elk and whitetail deer. We were joined by Mike Jarvis (owner of Camden Ranch), Ricky Helms (guide for Camden Farms), Randy Newell (host of MS. Outdoors), Richard Bearden (The Outfitter), Nick Brown (MS. Wildlife Conservation Officer), Todd Macko ( "A Hunt Above") and Mike Macko (Director of "A Hunt Above" ).
Also, Kurt's dad (Ben), mother (Leigh) and brother (Nathan) joined us in this hunt.
We all went out for the afternoon hunt and Kurt saw all kinds of animals while in his set up. Here are a few pictures of his set up and the animals that he saw.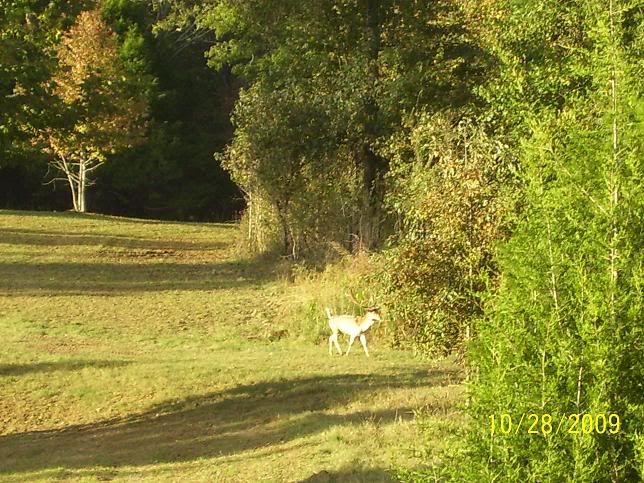 The Elk were located by a group and radioed Ricky and the stalk was on for Kurt. When Kurt made it to the group, the Elk had been fighting and there were battle scars on them including antlers broke. He pointed out which one he wanted to the guide. The Elk were lying down and after a bit of noise, the elk finally stood up and presented Kurt a good shot.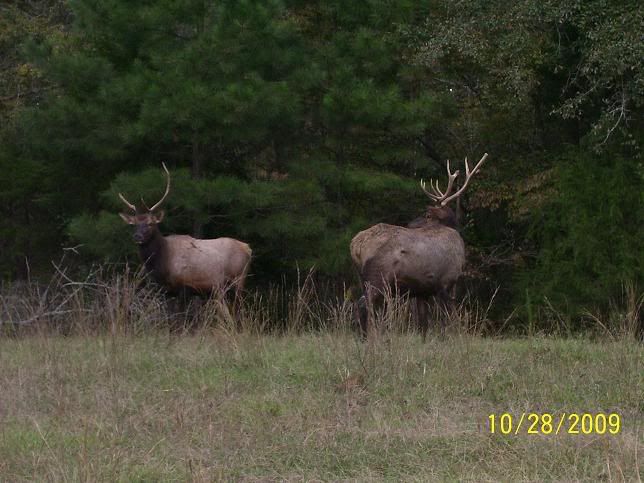 Here is Kurt and his family with his first ever elk. "A Hunt Above" strives to make all of their hunts geared around the family of the participant.
Here is the owner of Camden Farms, Mike Jarvis, guide Ricky Helms, Director of "A Hunt Above", Mike Macko and Kurt with his first ever elk.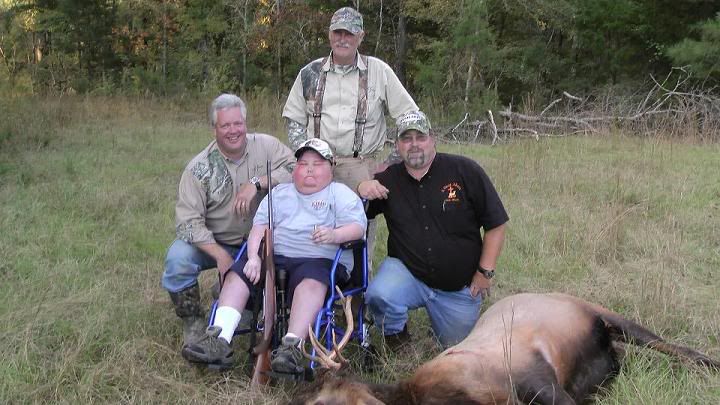 We went back to the lodge and relaxed while supper was being prepared. Here is Kurt with Randy Newell and Mike Macko giving a thumb up from the day event.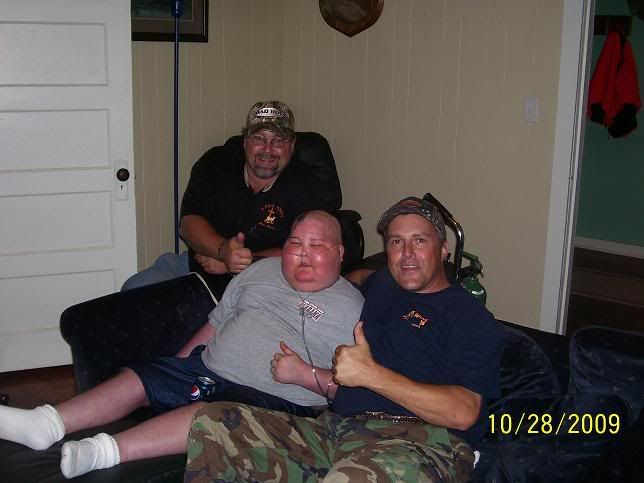 We at "A Hunt Above" would like to thank Mike Jarvis, Ricky Helms and Richard Bearden for their hard work on getting this hunt together in such a short notice.
Also we like to thank all of our supporters.
We ask that you continue to be in prayer for Kurt and his family as they fight this battle.
If anyone is interested in a hunt at Camden Farms they may contact Mike Jarvis at 601-955-9799 or Ricky Helms at 662-571-8729