Moderator: Smacko
Mike Macko
Team Perfect Ten Champions 2012-2013
Team Ironwood 2013-2014
Team The Rack Smackers 2014-2015
Team Backstrap Brotherhood Champions 2015-2016
Pope&Young
Posts: 5102
Joined: Mon Mar 12, 2007 6:25 pm
Location: Mississippi
---
Thats a good looking deer... Standing by for the story!!
Pope&Young
Posts: 2252
Joined: Thu Aug 07, 2008 10:52 am
Location: Florence MS
---
Here is Levi with his doe he got this morning..was a great weekend with A Hunt Above and Lee Harkins and of course with Levi and his dad Scott...not a bad weekend a buck on Sat. and a doe on Sun.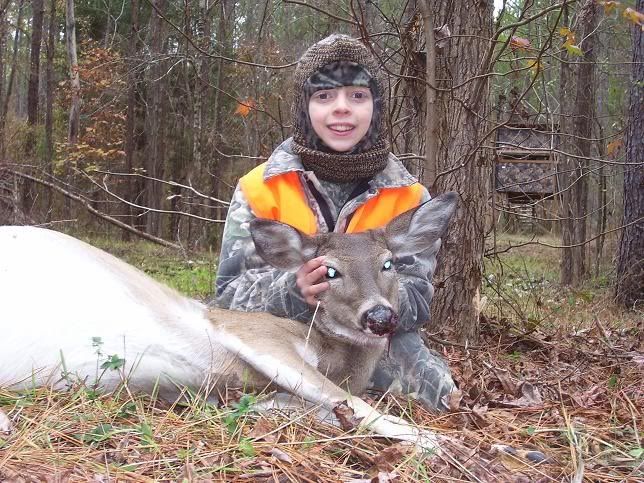 Mike Macko
Team Perfect Ten Champions 2012-2013
Team Ironwood 2013-2014
Team The Rack Smackers 2014-2015
Team Backstrap Brotherhood Champions 2015-2016
Pope&Young
Posts: 5102
Joined: Mon Mar 12, 2007 6:25 pm
Location: Mississippi
---
congrats!!!!!!!!
I'd rather have money in my pocket than change shoved down my throat!!! ~thought it was appropriate!
10 Point
Posts: 502
Joined: Tue Feb 23, 2010 11:48 pm
Location: coffeeville, ms
---
Pope&Young
Posts: 5743
Joined: Tue Feb 03, 2009 9:29 pm
Location: big creek , ms
---
Pope&Young
Posts: 3147
Joined: Fri May 28, 2010 7:41 pm
Location: BRANDON
---
---
Who is online
Users browsing this forum: No registered users and 1 guest